THE PERFECT PLACE TO RETREAT
AMANSALA has built a reputation based on authentic hospitality, attention to details and adapting to the needs of our ever-growing yoga community. We are proud to be known as one of the leading retreats centers of the world.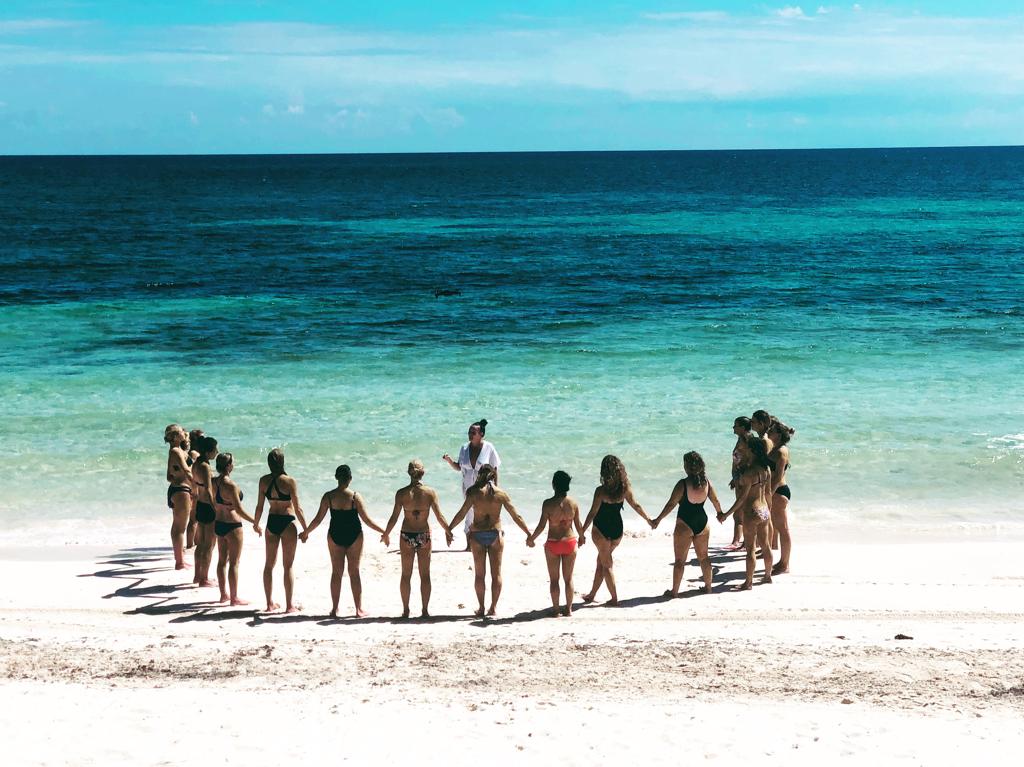 Amansala is located just 2 hours south of Cancun and is famous for it's Mayan Ruins, and is preferred by yogis all over the world for it's relaxed bohemian-chic feel, local highlights, beautiful beaches, hidden cenotes, and lush jungle and great vibes.
Amansala is all about getting back to basics with style and comfort…
Accommodations range from beachfront suites to cozy rooms. The architecture embodies the signature eco-chic style of AMANSALA that includes locally made decor.
This is what relaxed luxury looks like, Amansala Grande and Chica are just a one minute walk down the beach from one another with a total of 75 rooms between the two of them. A tranquil setting the embodies community, yet there is space to relax on one's terrace, our beautiful beach deck, or the sunset lounge where the jungle stretches as far as the eye can see. Perfect for stargazing, sunrises, sunsets, or soaking up some sun.
All cabanas are equipt with private bathrooms and sitting areas. Sleep to the soothing sound of the ocean and wake up feeling refreshed and rejuvenated. Rooms at AMANSALA are styled with our beautiful Eco-Chic beautiful bohemian feel.
YOGA RETREATS 2020
Low Season June 17th - October 12th 2019

Deluxe Beachfront King- $320 if private, $200 per person if shared
Beachview King - $290 if private, $180 per person if shared
Semi Sea View King (Only Available at Chica) - $265 if private, $170 per person if shared
Bed in a Double Beachfront room -$200 per person based on two per room
Bed in a Double room -$175 per person based on two per room
Bed in a Garden Triple Room -$155 per person based on three per room
Garden Plus- $240 if private, $145 if shared - a king bed with great light facing the front garden area
Garden Basico- -$210 if private, $130 per person if shared- a queen bed located facing the back garden, not recommended for two people

All rooms must be filled to capacity.

All rates are subject to 13% tax and a $12 per day gratuity charge.



Rates include:
• All meals which are standard as:
• light breakfast of fresh fruit prior to morning practice
• Brunch
• Snack
• Dinner (with the exception of one offsite dinner that you will determine where)

Use of one of our yoga shalas determined by group size
-jungle and Sea View - 55 mats
-palapa roof beautiful round studio -45 mats
- gorgeous, panoramic, jungle view -18 mats
-open studio perfect for meditation or sunrise or sunset practice -30 mats
-sunrise meditation -25 pillows
Something for everyone. A variety of room types from private small garden, to large shared, to triple rooms and beachfront deluxe.
is what we are all about at AMANSALA.
WE ALWAYS USE FRESH SEASONAL PRODUCE
Our menus are designed to nourish and cleanse. Plenty of fresh fruit and vegetables, with enough protien to keep you powering in class.
We are always happy to work with you to create and customize the ideal menu for your retreat.
Our creative menus are made with LOVE and local chemical free produce. Fresh caught grilled fish, chicken, seasonal fruit and a variety of delicious salads that incorporate toasted pumpkin seeds, jicama, chia seeds and local super foods that leave you feeling satisfied and light.
Breakfast: Fresh fruit, granola and yogurt, or vegan yogurt made with (soaked chia seeds in coconut milk w dried coconut and a touch of agave)
Brunch: A variety of delicious salads, gluten free muffins, stone ground tortillas, different style of egg daily
Snack: Popular Mexican favorites, nachos, quesadillas, and guacamole always with a side of fresh fruit
Dinner
Starter: Seasoned fresh jicama, carrot and cucumber
Soup: Curried squash soup
Main Course: Grilled fish topped with a pineapple chutney served w/quinoa w/ mixed veggies with a jicama, mint salad
Dessert: Avocado vegan cacao mousse
Unforgettable Add Ons
Take advantage of our price bundles with saving of 50 usd or more per package, if you pre book one of our amazing packages for your group, you have the same package for free.
Package A
$100/pp Pre Book One MASSAGE per person, and get our MAYAN CLAY MEDITATION for just $10, per person
Package B
$100/pp (A Mayan sweat lodge) & MAYAN CLAY MEDITATION

Package C
$145 pp Snorkling at Grande Cenote or Bike ride to the Tulum Ruins & MASSAGE and MAYAN CLAY MEDITATION FREE!!

Package D
$170 pp TEMAZCAL (a Mayan sweat lodge), & and MASSAGE, and get our MAYAN CLAY MEDITATION FREE!!

Package E
$175 per pp COBA Ruins & a MASSAGE and get our MAYAN CLAY MEDITATION FREE!!
Bike Tour to Tulum Ruins $50 usd pp
Experience the Mayan Ruins by bike, 20 mins each way. Enjoy a leisurely bike tour along the beach road to the magical Tulum Ruins. Upon arriving we will have a guided walk through the Ruins.
Bike Tour to a Mangrove in Sian Kian $50 usd pp
A 20 minute bike ride takes us to the entrance of the Sian Kian reserve where we walk over a rickety bridge over the mangrove with extraordinary views and a new perspective on the area and great swimming and kayaking.
Grande Cenote Tour $50 usd pp
One of the best cenotes in the Riveria Maya is just a 15 min drive. A beautiful swimming spot to discover the underworld beauty of a cenote.
Deep Tissue or Swedish Massage 90 usd/55 mins
Mayan Healing Services 135 usd/85 mins
Reflexology or Facials 90 usd/55 mins
Tarot Card Readings 90 usd/55 mins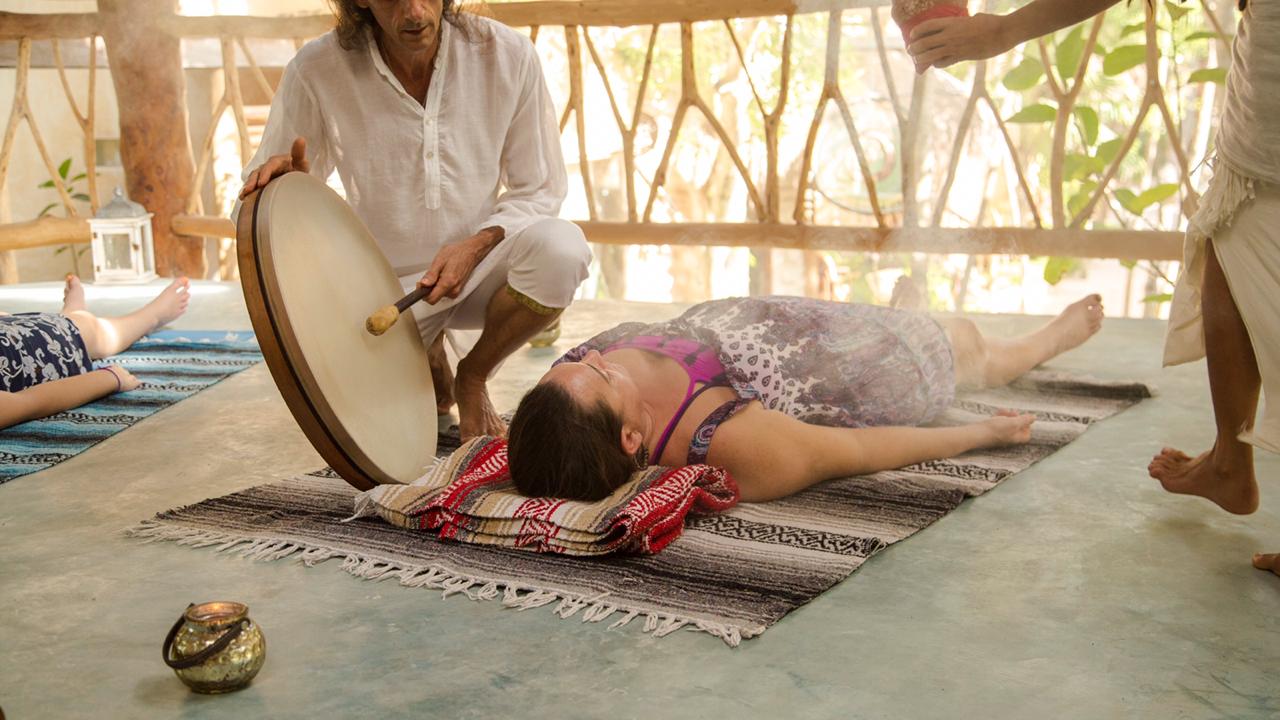 A trio of local musicians and healers that have studied the art of healing through sound, rhythm and sacred objects collected from nature to relax your mind and body while awakening your soul.
$45 usd/pp
An ancient steam bath with curative and therapeutic benefits. Believed to balance and detoxify the body mind and spirit. This ceremonial practice has been used as a ritual to let go of anything that is holding you back.
$85 usd /pp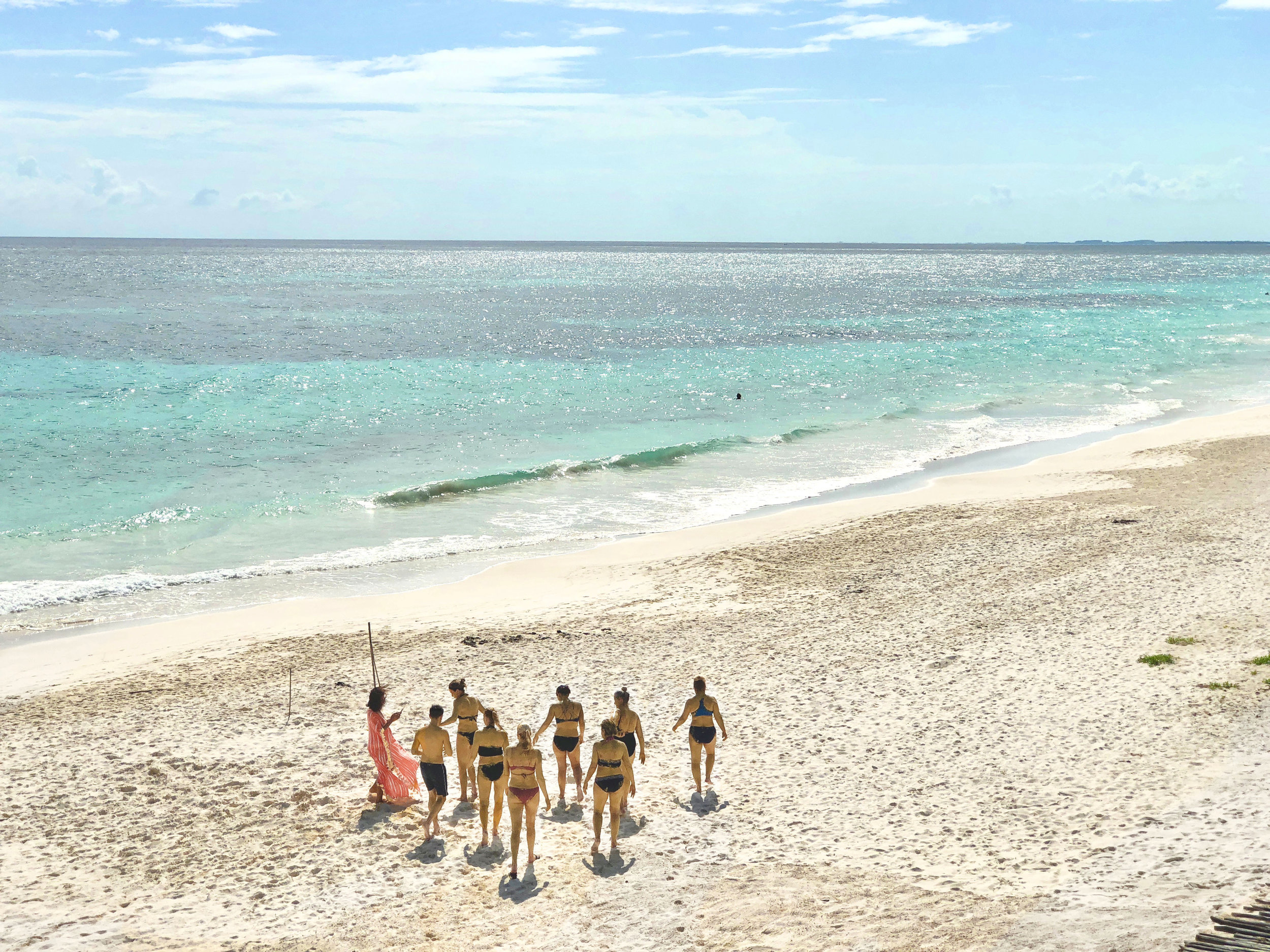 Mayan clay is a group detoxification clay wrap. The ceremony is held on the beach and it starts with a nice explanation of how the clay affects the body and pulls toxins out. After this introduction everyone will apply the clay to themselves while wearing bathing suits. Once everyone is covered in clay you are guided through a meditation, that inspires everyone to let go and let in. Finally everyone bathes in the beautiful Caribbean Sea.
$45 usd / pp
The minimum number of guests to host a retreat is 10 paying guests. With 15 paying guests, not including yourself, one teachers full room and board, will be comped in a small non beachfront private room, or in a larger shared room. With 25 guests there will be either two teachers comped either in a shared garden room or two separate garden rooms, If there is only one teacher with 25 guests you can be comped in a beach view room. If you would like a nicer room you can also opt to pay the difference in rate for an upgrade.
Included in your retreat:
Salsa Dance Class
Cooking Class


1. Do you have props?
Yes we have mats, blocks, straps, and lots of blankets. We do NOT supply bolsters
2. Do you have wifi access?
Yes, for 25 usd for the duration of your stay. We do not have computers onsite for guests to access.
3. Do you have music hook ups?
Yes we have both bluetooth and auxiliary hook ups for music.
4. Do you accommodate food allergies?
Yes our chefs are conscientious of food allergies and we can accommodate almost all allergies or aversions.
5. Gratuity?
A minimum gratuity of 12 usd /pp per day is added onto the room cost. This goes towards the waiters, kitchen staff, bell boys, and cleaning staff. If you want to tip the frontdesk, guides or massage therapists it is at the discretion of your guests. The tip covers the inclusive part of your retreat only and at the end although not mandatory, most teachers like to give a little extra to our amazing staff.
We can arrange for transportation from the airport to Amansala with one of our reliable drivers. The cost of transportation is each way and is as follows:
Private transfer $135
2 people sharing $70 each
3 people sharing $60 each
4 people sharing $50 each
5 people sharing $45
6 plus $40
amansala.retreats@gmail.com
We hope to hear from you soon.
Terms and Conditions - Contract for group booking at Amansala.
Dates:
Amansala accepts bookings from group leaders, retreat promoters, retreat planners, hereinafter called "the Retreat Planner" on the following conditions:
Initial Booking Deposit
All prices in this contract are stated in American Dollars, USD.
Group rates consists of a minimum of 10 people.
Your deposit of $2500 is due upon signature of this contract. All payments are to be paid by wire transfer as indicated on the invoice. This deposit is for hosting a retreat.
If the deposit is not received within 7 days from the signing of the contract Amansala reserves the right to cancel the contract.
Cancellation of your retreat
If you cancel your retreat with more than 16 weeks to your start date, all but $750 of your deposit will be returned. If cancellation is made with less than 16 weeks to your start date, there is no refund of your deposit nor is it transferable to another set of dates nor for a personal use. Any amount of deposit that is given back as a credit, can only be used towards a future retreat and not towards a personal stay.
Cancellation from your guests
With any cancellation from your attendees after your final payment due date, 3 weeks to your start date, two nights will be charged according to the occupancy type of the booking. For any cancellation with less than 3 weeks to your start date, there is no refund, nor is it transferable.
This cancelation policy should be clearly communicated to your sign ups so they are aware any last minute cancellations will incur a fee. You can chose to refund or not your teaching portion but for our room portions.
Payment is due 6 weeks prior to your start date based on whatever your total is at that point less $2500
Should you get last minute sign ups that total more than $2500, they shall be paid within 3 weeks prior to your start date to allow for last minute sign ups.
Any last minute sign ups after that will need to be paid as they come in.
The minimum number of guests to host a retreat is 10 paying guests. With 9 paying guests, one teachers full room and board, will be comped in a small non beachfront private room, or in a larger shared room.
Should the group not reach 15 paying guests, the accommodations of the retreat leader would be charged at the group rate.